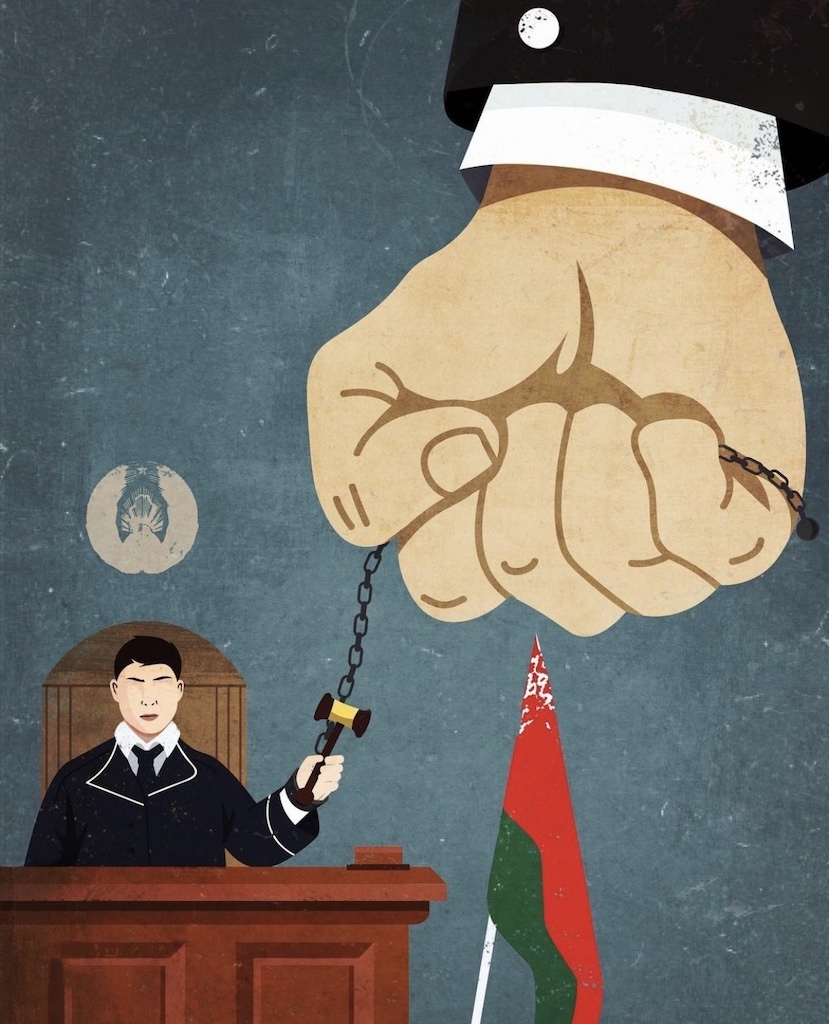 Top Stories
Jul 14: Belarus targets rights activists, journalists with raids
More than 40 raids took place across Belarus targeting the Human Rights center Viasna, the Belarusian Helsinki Committee, the Belarusian Association of Journalists and others. Law enforcement raided groups that work on a wide range of human rights issues, including human rights education, social and economic rights, protection of media workers, freedom of expression online etc. The minimum of 12 activists were arrested, many of whom still remain in custody. The raids are the next round of Lukashenka's crackdown on dissent, following last week's attack on the independent journalists and media outlets across the country.
Jul 19: Belarusian opposition leader in Washington D.C. to meet with US officials
Sviatlana Tsikhanouskaya, the leader of the Belarusian opposition, is visiting Washington D.C. at the invitation of the US State Department for a series of meetings with high-ranking US government officials. She said her focus would be on the worsening Human Rights situation in Belarus as well as the escalation of violence by the regime of strongman Lukashenka.
Jul 16: Belarusian-American communities appeal to President Biden on meeting with Tsikhanouskaya
BelarUS Freedom Forum along with Association of Belarusians in America (ABA) and Free Belarus Coalition, on the behalf of Belarusian-American communities, have issued an appeal to President Biden to meet Belarusian opposition leader Tsikhanouskaya during her visit to Washington D.C.
Jul 12: EU deploys border force in Lithuania as Belarus opens pathway for migrants
EU Border Protection Agency FRONTEX has been deployed in Lithuania in response to an unprecedented influx of illegal migrants coming through the Lithuania-Belarus border. Migrants are flown and sent to cross into Lithuania by the Lukashenka government as a form of retaliation against the EU sanctions imposed on Belarus earlier. This "weaponized" migration has resulted in a twelve-fold increase in attempts to cross into Lithuania illegally compared to last year.
Jul 16: Other Media raided as Belarusian police search offices, homes of journalists
To conclude the week of terror, the regime's security forces raided and vandalized the offices and private residences of several independent journalists, including the premises of the Radio Free Europe/Radio Liberty in Minsk. The raids that drew comparisons to the year 1937 of Stalinisms from Tsikhanouskaya adviser Franak Vicorka, left doors of the Radio Liberty office broken and several key journalists detained.
Analysis
Jul 14: Putin and Lukashenka locked in a dysfunctional axis of autocrats
Brian Whitmore asserts in his analysis of the Belarus-Russia relationship that the image of solidarity of the two countries is driven by individual competing agendas of Putin and Lukashenka. Russia's support of Belarus is much more performative than might appear, with Russian major oil companies suspending their business with Belarusian partners under US sanctions. While the two dictators are indeed "bound together geopolitically, they are also engaged in a high-stakes game of cat and mouse".
Jul 12: ESG investing: funds weigh sovereign debt profits against human rights
The article follows the efforts of a Belarusian businessman to pressure International Asset Managers to stop buying Belarus government bonds. The debt market industry argues that blacklisting countries based on their human rights record will harm investments across the world. The discussion implies that the international financial instruments cannot be used to effectively pressure authoritarian regimes, unless backed by strong political will of wealthy Western countries.
Repressions in Belarus
Jul 12: Would-be Belarusian presidential candidate Babaryka transferred to penal colony
Viktar Babaryka, former presidential candidate and the head of the Russian-owned Belgazprombank, was sentenced to 14 years in prison and transferred to a penal colony less than a week after the court hearing. The verdict of the Supreme Court of Belarus eliminates any opportunity to appeal the verdict and is seen by the defendant's lawyers as politically motivated. The sentencing of Babaryka comes despite Vladimir Putin's repeated requests to release the former presidential hopeful.
Belarus and US
Jul 16: Opinion: Biden promised to support democracy. He now has an opportunity with Belarus to show he means business
The visit of Sviatlana Tsikhanouskaya to the US this week presents a unique opportunity for Biden to fulfill his campaign pledge of supporting human rights and democracy around the World. Tsikhanouskaya is a prominent leader of the Belarus freedom movement, and the winner of the 2020 presidential elections, whose presidential post was stolen. The visit comes at a time when free journalism and human rights organizations are being eradicated by the regime in Belarus. With Mrs.Tsikhanouskaya fighting at the front lines of Belarus' struggle against dictatorship, few White House visitors would carry so much symbolism at this point in Biden's presidency.
Jul 14: "Criminalizing independent voices": US envoy Julie Fisher comments on crackdown on Belarus civil society
Following the massacre on independent Media and Human Rights defenders, US Ambassador to Belarus Julie Fisher has commented that: "The number of detentions is climbing by the hour. The Lukashenka regime's relentless campaign to criminalize independent voices, human rights defenders and civil society is an outlier in modern Europe and is the cause of Belarus' international isolation".
Belarus and Europe
Jul 12: Norway aligns with EU's new sectoral sanctions against Belarus
Norway's foreign minister announced the country's decision to restrict trade with Belarus in the areas of petroleum products and goods used for tobacco manufacturing. Export of both is considered one of the main sources of hard currency for Lukashenka. In her statement, Ine Eriksen Søreidenoted stated that it was important for democratic Europe to stand up to Human Rights abuses in Belarus and urged the regime to abandon its failed policies and free political prisoners.
Jul 12: EU's Borrell backs Vilnius charge that Belarus using migrants as "weapon"
Joseph Borell, EU Foreign Policy Chief, has joined Lithuanian foreign minister Gabrielius Landsbergis in his charge that Belarus is weaponizing illegal migration against the European Union. In a joint statement, Borell said that the EU "needs to be very strict with the regimes that are using these sorts of weapons". The move follows an unprecedented influx of migrants from Middle Eastern countries through Lithuania's border with Belarus and mounting evidence suggesting that Lukashenka's regime is facilitating the logistics of this operation.
Jul 13: Imprisoned Belarusian activist Maryia Kalesnikava gets 2021 Stuttgart Peace Prize
The Stuttgart Peace Prize is an annual award given to people or projects "involved in a special way for peace, justice and world solidarity". The announcement highlights that Kalesnikava has become a key figure in the protests against authoritarian leader Lukashenka. Particularly, Kalesnikava's actions made the KGB fail to push her out of the country. While being kidnapped, she managed to destroy her passport, jump out of the car and return to the Belarusian border. She is currently facing up to 12 years in prison.
Jul 14: On Lithuania's plea, Iraq to probe human smuggling to Europe
In a meeting with his Lithuanian counterpart, Iraq's Foreign Minister Fuad Hussein promised to investigate the trafficking networks responsible for smuggling Iraqis into Lithuania through Belarus. Lithuanian Foreign Minister emphasized that based on the testimonies of the trafficked migrants, "Iraqi people are being promised an easy trip to Europe, instead they end up in a Lithuanian forest in a refugee camp". More than 1500 people have crossed into Lithuania from Belarus illegally, which is 20 times more than in the whole of 2020.
Jul 17: Estonia will not send new ambassador to Belarus
The diplomat appointed to the post of Estonia's ambassador to Belarus will not be taking up the position. The appointment had met with considerable opposition, given it would be a tacit recognition of the presidency of Lukashenka. Foreign minister Eva-Maria Liimets said that "this would be completely inappropriate, as neither Estonia nor the EU recognizes the result of the Belarusian presidential elections of last August, which were marked by mass fraud".
Belarus and Russia
Jul 13: Putin hosts leader of Belarus for talks on closer ties
Amid the growing economic and political isolation from the West, Lukashenka met with Putin in St. Petersburg to discuss deeper economic ties between Belarus and Russia. The two leaders discussed additional Russian loans for Belarus, further increasing Belarus' dependency on its eastern neighbor. During the talks, Lukashenka made statements accusing Western-funded agents of terrorizing his supporters and undermining the country's stability, and said that Belarus will meet its Russia obligations "at any cost".
Jul 17: Kremlin confirms help to Lukashenka in face of Western sanctions
Russian President Vladimir Putin has instructed the government to consider supporting Lukashenka's regime amid Western sanctions, said the press secretary of the Russian President Dmitry Peskov. Lukashenka's spokeswoman Natallia Eismant earlier said that following a meeting with Putin on July 13, the governments of the two countries were instructed to work out a joint plan to counter the sanctions.
Inside Belarus
Jul 12: It's time to defend sovereignty and security of Belarus and its every citizen
Belarus State Media used Oleg Gaidukevich, an MP sanctioned by the European Union, to showcase the brutality of Belarusian democratic movement. Gaidukevich was allegedly attacked by what the state propagandists call a "desperate attempt by the radicals to retaliate against the supporters of Lukashenka". The incident is portrayed as the latest attempt by the Western "patrons" to escalate tensions in Belarus.