Key Events: July 26 - August 1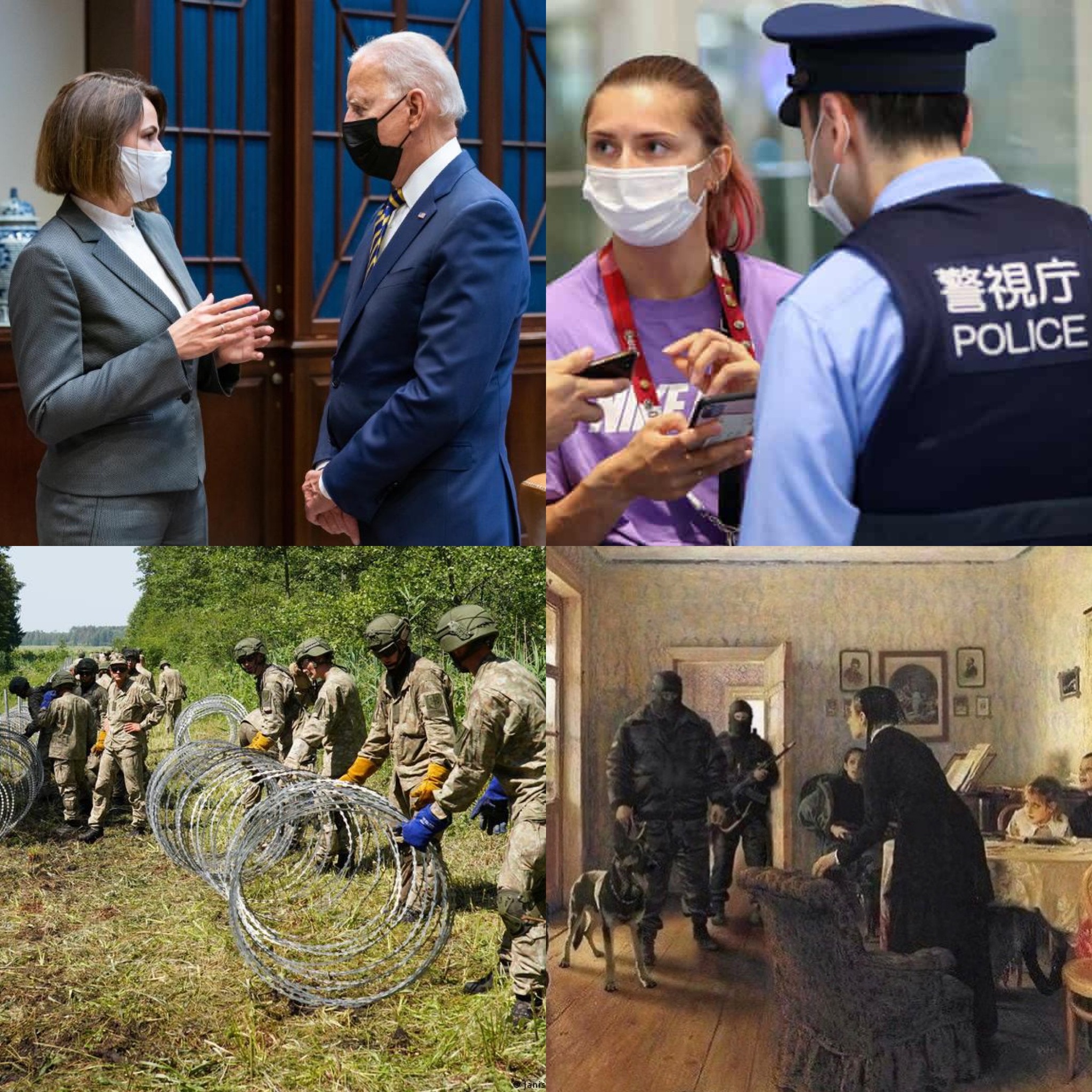 Top Stories
Aug 1: Belarusian Olympic sprinter says she is being pressured to leave Tokyo after criticizing her country's Olympic officials
Krystsina Tsimanouskaya who was due to compete in the women's 200m event on Monday, had complained on social media about being asked to run a different race at a short notice. Soon thereafter, she was forced to pack before being taken to the airport in Tokyo to return home against her will by the Team Belarus officials. The sprinter sought police protection at the terminal so she would not have to board the flight, and asked the International Olympic Committee (IOC) for help.
Jul 28: Biden meets Belarusian opposition leader Sviatlana Tsikhanouskaya
The meeting happened after Tsikhanouskaya had already visited the White House to meet with the Secretary of State Anthony Blinken and National Security Advisor Jake Sullivan. The event took place after the Belarusian diaspora, together with the Friends of Belarus Caucus in Congress, had repeatedly petitioned President Biden to meet with the democratic leader of Belarus.
Jul 28: UN experts will examine the arbitrary detention of journalist Raman Pratasevich
Reporters Without Borders (RSF) and 6 other humanitarian organizations are proceeding to file a formal request for the UN to declare the Belarusian journalist's Raman Pratasevich detention arbitrary. Mr. Pratasevich was arrested on the tarmac in Minsk airport after the Ryanair flight was forced to divert and landed there. Raman spent several weeks in the KGB jail and has been kept in an unknown location under "house arrest" since. According to his parents, Raman has been subjected to physical violence and psychological pressure while in KGB detention, and was also forced to make false confessions on State TV.
Repressions in Belarus
Jul 30: Nearly 4,700 protest-related criminal cases opened since August 2020
Since last year's rigged elections, most of 4,691 cases opened by the Investigative Committee and labeled as extremist activities aimed at undermining the country's sovereignty, relate to political graffiti (Art. 341 of the Criminal Code, "desecration of buildings and damage to property") and "insulting government officials" (Art. 369). Over 800 of such cases have been marked as politically motivated by Human Rights organizations, with over 600 names currently on the list of political prisoners.
Jul 29: Jailed Belarus journalist needs urgent hospital care for COVID treatment
The Belarusian Association of Journalists has called on the regime's authorities to transfer Andrei Skurko into a civilian hospital for treatment after his X-rays showed lung structural damage, normally associated with COVID-19. Mr. Skurko was arrested as part of the "mop-up" operation against the most prominent Belarusian online newspaper "Nasha Niva". Andrei suffers from insulin dependent diabetes, which makes the COVID infection especially dangerous for him.
Jul 27: Belarus authorities dissolve Belarus Press Club
The Committee to Protect Journalists demanded the Belarusian authorities to reverse the decision to dissolve Belarus Press Club. The move comes eight months after five of Press Club Belarus's employees and a journalist who participated in Press Club Belarus's events were arrested on the alleged tax evasion charges.
Jul 28: Date set for trial of Belarusian opposition figures
The trial date has been set for two of the most prominent figures of the Belarusian opposition. Maksim Znak and Maryia Kalesnikava, who gained notoriety for their active participation in protests against the election fraud. Kalesnikava was later kidnapped in Minks by masked men and taken to the Ukrainian border, where she ripped her passport apart, thus preventing the regime's attempt to get her forcefully kicked out of Belarus. The regime ordered the trial to be conducted behind closed doors.
Jul 26: RFE/RL correspondents in Belarus released from jail 10 days after arrest
Lukashenka continues to suppress independent media and civil society. The three journalists were arrested along with other independent journalists on July 16 after police and security forces searched their apartments and offices, including Radio Free Europe/Radio Liberty's offices in Minsk. They were released from jail after their hunger strike, with warning that they still remain suspects in an unspecified criminal case.
Belarus and U.S.
Jul 27: Belarus' opposition leader is bringing her fight against "Europe's last dictator" to the U.S.
The article by Christopher Miller reviews Tsikhanouskaya's visit to the U.S., its results so far, and the message it carries for the U.S. administration. Tsikhanouskaya used the opportunity to explain in depth the severity of the repressions in Belarus and urge the American officials to impose decisive sanctions on Belarusian autocrat Lukashenka. As was noted before, her visit is a timely test of President Biden's commitment to supporting democracies worldwide.
Jul 29: Belarus opposition leader seeks new sanctions from U.S. and Europe
Drawing the comparisons with the collapse of the Soviet Union, Belarus' opposition leader Sviatlana Tsikhanouskaya is convinced that tougher sanctions can bring down Lukashenka's regime as well. The regime currently stands on two pillars: money and security forces. Acting together, the United States and European Union can topple the entire structure by applying coordinated financial pressure on the regime's economy.
Belarus and Europe
Jul 29: EU calls for action to beef up Lithuania's Belarus border
Lithuania has warned neighboring Belarus that it could face more EU sanctions unless it gives up its alleged role in helping thousands of migrants illegally cross into the Baltic state this year. More than 3,000 migrants have been caught entering Lithuania so far this year, compared to just 80 during the whole of 2020. Lithuanian authorities believe most of the people attempting to enter the country traveled to the Belarus on one of the four weekly flights from Iraq, which carry up to 500 passengers each.
Jul 29: Recent developments in Belarus: U.S. and UK statements
The U.S. Mission to OSCE delivered a speech to OSCE's Permanent Council stating that last week, Sviatlana Tsikhanouskaya and her team were welcomed in the U.S. by Secretary Blinken, National Security Advisor Jacob Sullivan and many others. The Mission Chargé d'Affaires added that U.S. renews their call for the Lukashenka regime to accept the OSCE's offer to facilitate a national dialogue leading to free and fair elections under international observation. Meanwhile, UK Ambassador Neil Bush delivered his speech about the systematic state-led human rights violations in Belarus.
Jul 27: Belarus labels Polish-funded TV channel extremist
Following a court order, Belsat, a Belarusian TV-channel based in Poland which provided extensive coverage of last year's protests, has been declared extremist. All online access to Belsat on social media is blocked in Belarus, sharing its content online can lead to an arrest of up to 15 days. The decision comes amid a sweeping closure of the most respected NGOs in the country, including the Belarusian Association of Journalists and PEN Center, an association of writers led by Svetlana Alexievich, the winner of the 2015 Nobel Prize in Literature.
Belarus and Russia
Jul 28: Concerns mount over Russia-Belarus military
Unlike Zapad-2017, Zapad-2020 military exercises can use the presence of Russian troops in Belarus to blackmail its western neighbors and Ukraine. Since the beginning of the brutal crackdown on civil society, Lukashenka has no alternative now but to rely on Russian support. He is forced to bend over backwards in order to demonstrate his political loyalty to Moscow, turning Belarus into a potential front in Russia's war against Ukraine, threatening to disrupt trade supply chains between Europe and Asia, and weaponizing illegal migration against Lithuania.
Jul 30: Belarus leader would "not hesitate" to invite Russian troops if needed
The statement, contradicting Lukahsneka's previous position against the deployment of Russian troops in Belarus, can be interpreted as a token of appreciation of the Kremlin's support. Lukashenka was quick to note that his country does not need external forces, saying "there is no need for that now. We have quite a strong, united and compact force".
Jul 27: Belarus and Russia are ready to create a unified nuclear research infrastructure
During the meeting with a delegation from Russian Kurchatov nuclear research institute, Lukashenka discussed further cooperation with Russia in the field of nuclear technologies.
Inside Belarus
Jul 27: Belarus state-linked media suggests Jewish organizations are disloyal
The state media alleged that a Jewish umbrella organization in Belarus received foreign funding to support the anti-government protests. The news article featured several high profile members of the community, accusing them of supporting the (white-red-white) flag under which, the website averred, the Jewish "ancestors were exterminated".
Analysis
Jul 30: What Sviatlana Tsikhanouskaya's U.S. visit means for Belarus
Melinda Haring reflects on Sviatlana Tsikhanouskaya's growth as a political figure and speaker. She notes that Belarus opposition leader is the right person for bringing attention of international leaders to the situation in Belarus, admiring her ability to channel personal difficulties into action.
Aug 1: Why are so many migrants coming to one of Europe's smallest countries? Blame Belarus, officials say
Lithuania, a Baltic nation with fewer than 3 million residents, hasn't been known as a destination for undocumented immigrants: Each year, the country sees roughly 70 people unlawfully cross its border with Belarus. In June, authorities apprehended more than 470 people along the 420-mile border. In July, the number skyrocketed to more than 2,600, consisting mostly of immigrants from Iraq and sub-Saharan Africa.
Jul 29: How Russian money keeps Belarus afloat
DW discusses the scale of Belarusian dependence on Russia's financial support, the value of discounted oil and gas prices, preferential market access, as well as how cross-border smuggling plays its part in supporting the country's economy.
Jul 28: The age of zombie democracies
The main trend among contemporary autocrats is abandoning what is called a "managed democracy" and resigning to a pretense of democratic institutions without any substance - the "zombie" democracies. Just like dictators adapt to new challenges to their regime, human rights advocates need to adapt without assuming that democratic facades are ever going to turn into an actual democracy.