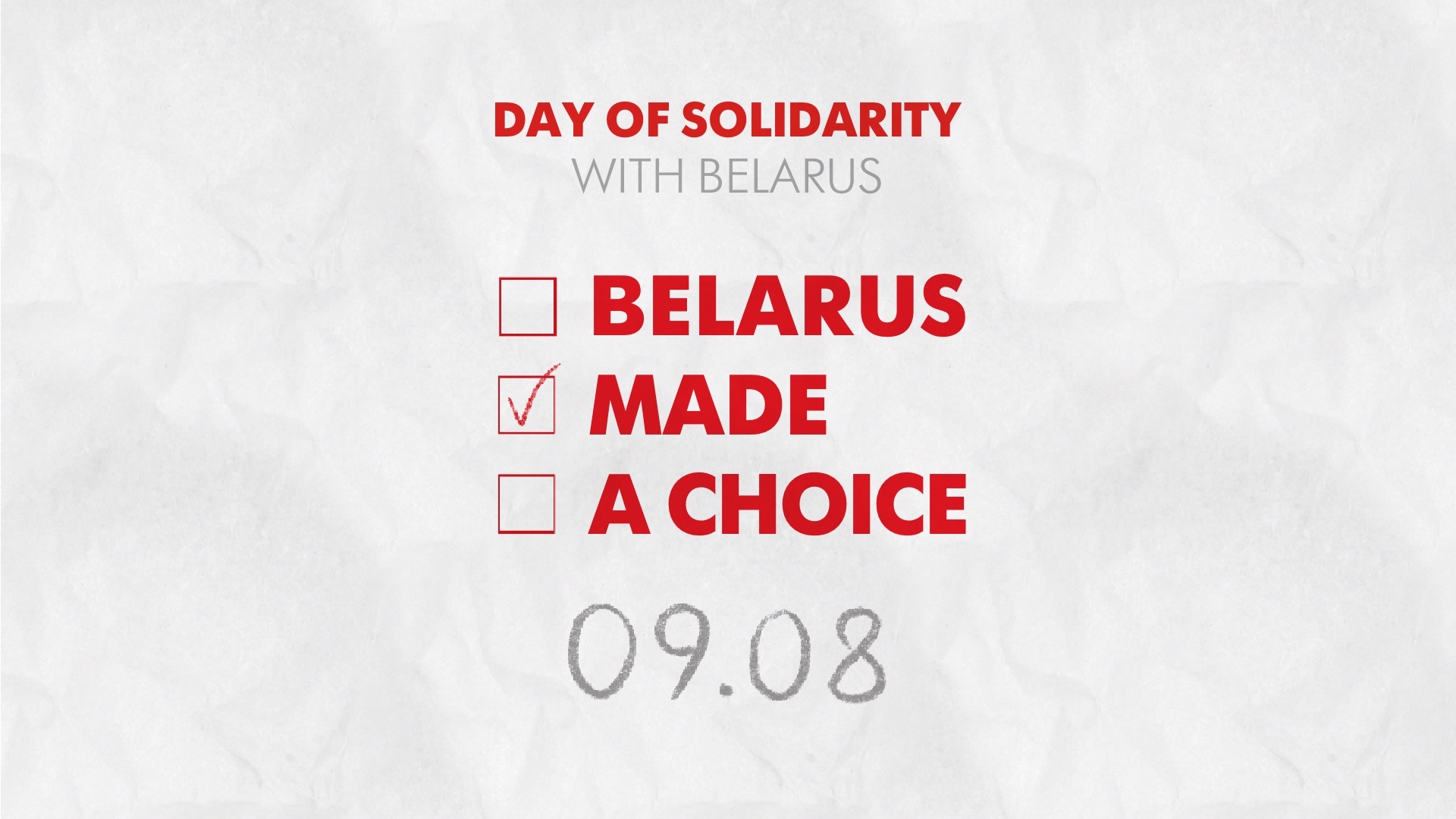 Top Stories
Aug 2: Poland grants Belarus Olympic sprinter Tsimanouskaya a humanitarian visa
Krystina Tsimanouskaya, who narrowly escaped a forced return to Belarus from the Tokyo Olympics, has been granted a humanitarian visa in Poland. The sprinter's place on the Olympic team was abruptly revoked after she criticized the Belarusian athletics federation on her social media. The Team Belarus' personnel escorted her to the airport, where she narrowly escaped boarding the flight by turning to Japanese police. The IOC revoked the accreditation of Belarus Olympic personnel involved.
Aug 3: An activist who helped persecuted Belarusians flee the country is found hanged
Vital Shyshou, the Kyiv-based Belarusian House of Ukraine (BHU) leader, was found dead in a city park on Tuesday. The BHU helps Belarusians fleeing the regime obtain legal status in Ukraine and find accommodation and employment. Vital's girlfriend remains skeptical that he could take his own life and fellow activists object to suicide attempt, claiming that Lukashenka's agents murdered Shyshou.
Aug 4: Dead activists, fleeing Olympians, and jailed journalists: Is this the new normal for Belarus?
The Atlantic Council's Melinda Haring explains the current development by exposing Lukahsneka's habit of overreacting, the image damage he took after Tsikhanouskaya visited the United States and the reach of his repressive apparatus. She interprets the alleged murder of Vital Shyshou in Kiyv and the failed forced return attempt of athlete Tsimanouskaya to Belarus as a signal that no critic of the regime is safe, no matter where they are. The reprisals will most likely intensify on the eve of the first anniversary of the democratic protests in Belarus.
Analysis
Aug 4: How to put Lukashenka in his place
Lukashenka's terror tactics require a forceful response from the West. Failure to provide it reinforces the dictator's sense of impunity. The article suggests practical steps for punishing the regime: expand the number and variety of sanctions, restrict the country's involvement with international financial institutions, and expel Belarus' intelligence officers from European and U.S. embassies.
Aug 4: Belarus sprinter's defection sheds light on a dictator's levers of control
Like many other dictators before him, Lukashenka takes his athlete's achievements personally and perceives the medals won at the Olympics as his own. His regime never shies away from using sport as a powerful propaganda tool for internal and international publicity.
Aug 6: A nation in chains: Belarus one year on
"The opposition hopes that international pressure will help to bring down the regime. But the reality is that Belarus must free itself." In her opinion article, CEPA's nonresident fellow Katia Glod shares her view on the current position of Belarus's pro-democracy movement and suggests several steps the United States and the European Union must take to support it.
Aug 6: As crackdown intensifies, British historian says fate has long been cruel to Belarus
History of Belarus is full of often dark and deeply troubled times. Norman Davis reminds that in 1918, an attempt to establish a free and independent Belarus National Republic was snuffed out and stopped by the Bolsheviks. In the 1930s, Soviet dictator Josef Stalin's purges killed up to 60 percent of the country's intelligentsia. Finally, during World War II and the Holocaust, Belarus lost a one-quarter of its entire population and arguably no country in Europe suffered more.
Repressions in Belarus
Aug 2: Belarusian journalist sentenced to 18 months in prison for 'insulting' Lukashenka
Journalist Syarhey Hardzievich was sentenced to 18 months in prison and a $1,600 fine for Telegram group chat messages deleted last year. He was found guilty of insulting the country's authoritarian leader, Aliaksandr Lukashenka, and slandering two police officers.
Aug 4: Belarus protests: Trial of opposition leaders begins
One of the leaders of opposition, Maryia Kalesnikava, and opposition lawyer Maksim Znak have been charged with incitement to undermine national security. If found guilty, they each face up to 12 years in prison on charges of extremism. Footage showed Kalesnikava smiling and dancing inside the prisoner cage at the closed trial and making a heart sign with her hands, a gesture she often made during last year's protests.
Aug 6: Belarusian opposition leader jailed for three months
A Minsk court sentenced the head of the United Civil Party and a member of the Coordination Council of Belarusian Opposition, Mikalay Kazlou, to three months in jail on charges that he disclosed information related to an official probe.
Aug 7: Belarus bans sports website as 'extremist'
The Interior Ministry bans Tribuna.com, a popular sports publication, and all its social media, claiming that they contain "materials calling for extremist activity." The creator of the Tribuna.com project, Dzmitry Navosha, is a vocal supporter of the pro-democracy protest movement in Belarus.
Aug 7: Belarus political prisoners, from teen to retiree
The 610 Belarusian political prisoners include students, doctors, journalists, industrial workers, retirees, and others from all walks of life. The AP collected some of their stories.
Belarus and U.S.
Aug 5: Biden's meeting with Tsikhanouskaya boosts Belarusian democracy
After meeting with Sviatlana Tsikhanouskaya last Wednesday, President Biden tweeted that the United States "stands with the people of Belarus in their quest for democracy and universal human rights." Biden's meeting with Tsikhanouskaya reinforces the view that Lukashenka is an illegitimate leader.
Aug 7: U.S. Ambassador reaffirms support for "a more democratic Belarus"
Ambassador Julie Fisher stressed that the United States continues to call for "an inclusive dialogue" inside Belarus that "leads to a new election … after the unconditional release of all political prisoners." Regrettably, the United States has found that diplomacy with the Lukashenka government rarely "leads to engagement and response." She added that the standoff in Belarus is between "the people of Belarus and a dictator."
Belarus and Europe
Aug 2: Lithuania to turn migrants crossing in from Belarus away
Lithuania has ordered its border guards to turn away migrants attempting to enter the Baltic country. It is the country's response to the migrant influx in the past months, which Lithuanians see as an act of retaliation by Lukashenka to increased sanctions by the European Union.
Aug 2: EU Commissioner due in Lithuania to discuss Belarusian border crisis
European Commissioner for Home Affairs Ylva Johansson will meet Prime Minister Ingrida Simonyte in Vilnius, responding to a sharp increase in irregular arrivals in its territory from Belarus in recent months. They will discuss further measures to curb the growing number of people illegally crossing the border from Belarus and visit the Padvarionys border crossing point, together with Interior Minister Agne Bilotaite.
Aug 3: HESS: Europe goes sectoral on Belarus
Brussels now has a more wide-reaching sanctions program on Belarus than Washington or London. Sectoral sanctions have arguably been the most significant innovation in the sanctions toolbox over the last decade. Proponents of their effectiveness argue they reflect a more deliberate circumspect and approach.
Inside Belarus
Aug 3: Belarus denies accusations of creating migrant crisis in Lithuania
In a press statement on the Foreign Ministry's website, its Press Secretary Anatoly Glaz rejected the EU's accusations against Belarus of creating a migrant crisis at the Lithuanian border. In Glaz's opinion, someone is trying to shift responsibility, and the European Union willfully exploits the situation at the Belarus-Lithuania border.
Interesting Read
Aug 6: The week in Russia: A poisonous August
A year ago, supporting Lukashenka's bid for power seemed like a considerable risk for Moscow. Today, the Kremlin is strongly invested in the Belarusian regime, with both countries following the same path of escalating repressions. The article discusses the latest Russian reprisals against the free press in the context of Lukashenka's years-long fight with civil society.
Aug 7: "Hard to endure": Belarus clampdown inspires a film and a censorship push
Weeks before its release, an unsettling drama about a young couple who gets caught in the Belarusian capital amid Lukashenka's violent crackdown was banned in Belarus and Russia. The governments deemed the motion picture "absolutely provocative and aimed at fueling protest moods in Belarus." The decision follows a meeting between the two countries' Foreign Ministers.