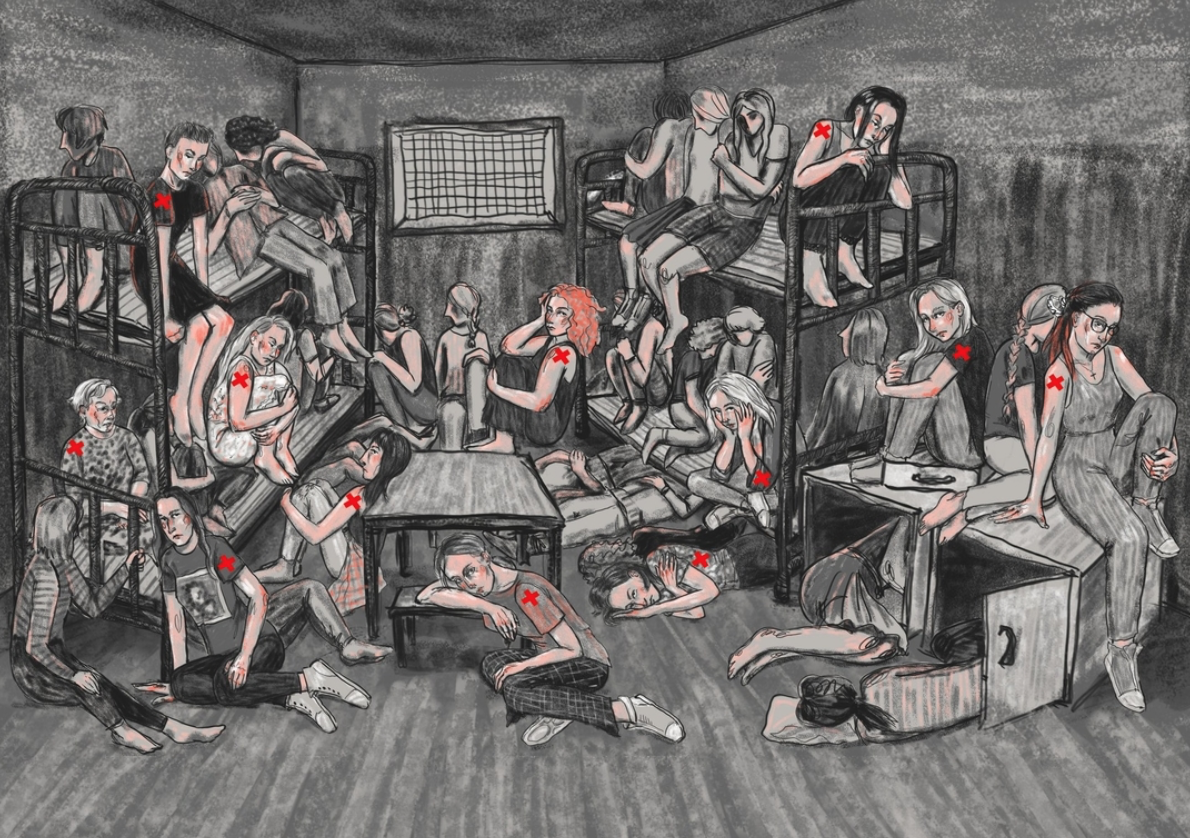 Top Stories
Aug 12: Belarus to get $1 billion from IMF, undermining U.S. push
Belarus's authoritarian regime is set to get almost a $1 billion lifeline from the International Monetary Fund (IMF) on August 23. The IMF insists that its actions are guided by the international community, which "continues to deal with the current government in Belarus". The IMF will however cut off some anti-democratic regimes, like Venezuela's and Myanmar's, from the assets because the ruling governments don't have broad recognition at the fund. According to inside sources, IMF members haven't even discussed rescinding recognition for Lukashenka's regime.
Aug 9: U.S. expands sanctions on allies of Belarus' authoritarian leader
The U.S. government announced new sanctions Monday on Belarusian government officials and wealthy allies of Lukashenka in response to the regime's ongoing political repression and corruption. The sanctions target the wealthy business owners in Belarus that the Treasury calls Lukashenka's "wallets," involved in the oil, coal, tobacco, and construction businesses. They also block the assets of national and local-level Belarusian security services' members who are responsible for violence and repression against the protesters and the political opposition.
Aug 11: Lukashenka's secrets: Not so secret anymore
The most successful cyber-attack in the history of Belarus, that allegedly allowed access to the regime's most secret and sensitive data vaults, has been revealed by a group calling itself Belarusian Сyberpartisans. Cyberpartisans accessed enormous amounts of data from archives across Belarus, including classified information about KGB and other special services employees. The regime has made no admission about these events.
Aug 9: Belarus leader lashes out at the West, a year after crushing protests
In a surreal eight-hour-long press conference, Lukashenka portrayed the protesters who rose against the fraudulent elections as "a clueless minority" manipulated by the insidious West. Showing strength during the protests, he asserted, prevented a new world war. The marathon press conference full of denial and attacks against the few Western journalists present at the event comes on the heels of the latest round of U.S. economic sanctions that make it harder for the regime to acquire hard currency and maintain its repression apparatus.
Analysis
Aug 11: 5 key questions on tighter Belarus sanctions
The article sheds light on the latest round of sanctions imposed by the U.K., U.S. and Canada on the Belarusian dictator. Economically, the sanctions affect Belarus' potash, petroleum products, and tobacco trade, cutting the country from European and U.S. markets, which amounts to between fifteen and twenty percent of the country's export. While this is an effective measure, the sanctioned goods can still be re-exported through Russia, which is presented with new opportunities to impose its own conditions for Lukashenka's political survival.
Aug 9: The new U.S. sanctions on Belarus: Strong, but not enough
Reflecting on new U.S. sanctions, Atlantic Council editorial team suggests that more can and should be done. They mention that new sanctions stop short of restricting Belarusian sovereign debt, failing to match the EU measures announced in June and the U.K. package announced the same day. Moreover, it's said that transatlantic democracies need to back up their allies Lithuania and Poland, whose governments are providing shelter and support to Belarusian activists, including leaders of the democracy movement.
Aug 12: Western companies must stop funding misinformation in Belarus
Belarusian state propaganda becomes a vital tool as the government tries to reassert control over a population teetering on open revolt against their violent ruler. The biggest advertisers enabling it are Western companies like Coca-Cola, Nestle, Colgate, Pepsi, and Procter & Gamble. According to German-Swiss human rights group Libereco, who have been sounding the alarm for months, two out of three commercials on Belarusian state TV are from American and European companies.
Aug 13: Belarus' year of living dangerously
Unprecedented street protests that followed the rigged election last year is a sign that a civil society comes of age in Belarus. In this podcast, the host Brian Whitmore, together with the former U.S. Assistant Secretary of State David Kramer and Tsikhanouskaya's Senior Advisor Franak Viacorka, takes a look back at Belarus' year of living dangerously—and a look ahead at what comes next.
Repressions in Belarus
Aug 9: Belarus: No justice in sight for scores of human rights violations survivors one year on from disputed election
Citing cases of torture, unlawful use of force, arbitrary detention, and thousands of other violations committed by the Lukashenka regime, the Amnesty International Organization calls on the international community to bring to justice all those responsible.
Aug 12: New wave of arrests in Belarus as more than 20 detained in two days
Belarusian authorities continue their sweeping crackdown on dissent. Andrei Dzmitryeu, a candidate in the 2020 presidential election, and Ihar Liashchenia, the former Belarusian ambassador to Slovenia, along with lawyers and Skhod civic initiative activists, were among the recent detainees.
Belarus and U.S.
Aug 8: Belarus denies entry to U.S. ambassador, cuts U.S. Embassy staff
The Lukashenka regime has rescinded its permission for the U.S. ambassador appointment in response to the new round of sanctions. Julie Fisher has been the U.S. Ambassador to Belarus since 2008, even though the Belarusian government has never issued her a visa to enter the country. Responding to the decision, the U.S. State Department spokesperson pledged to "continue to engage with Belarusians, including leaders of the pro-democracy movement, media professionals, students, and other members of civil society."
Aug 11: U.S. sanctions on Belarus potash leave out its sole seller
Belarus's state-owned potash producer, Belaruskali, included in the U.S. sanctions list released last Monday, controls about a fifth of the global market for the crop nutrient. However, potash buyers might not need to panic right away. Belarusian Potash Co., the sole handler of all of the country's potash exports, in which Belaruskali owns a 48% stake, wasn't on the list. Some countries might still feel it's safe to purchase from BPC.
Belarus and Europe
Aug 9: Hundreds in Warsaw protest political repression in Belarus
Hundreds of people, among them many Belarusians living in exile in Poland, marched Sunday in Warsaw to protest political repression in neighboring Belarus—a demonstration held on the eve of the first anniversary of the 2020 presidential election.
Aug 10: Latvia declares state of emergency along its Belarus border
Latvia declared a state of emergency at its border with Belarus, authorizing the border guards, armed forces, and police to use physical force to return migrants to the country they have crossed from. Latvia, like neighboring Lithuania, has faced an extraordinary influx of migrants in the past few months coming in from Belarus, allegedly used by the Lukashenka regime as a "weapon" against the EU.
Aug 11: Lithuania to build fence on Belarus border to stop migrants
Lithuania aims to build a 4m (13ft) metal fence topped with razor wire on the border with Belarus to stop migrants from entering. Lithuania's parliament has approved the fence, expected to cost about €152m ($178m). A spokesman for the EU said the bloc "does not finance fences or barriers." So far, the EU has offered help in the form of border guards and supplies instead.
Aug 12: Belarus sprinter feels safe, looks to future in Poland
Speaking in an interview Wednesday with The Associated Press at the Olympic Center in Warsaw, the 24-year-old runner said she has already asked Polish officials to help her resume training. The Belarusian Olympic sprinter found refuge in Poland to avoid punishment at home after criticizing team officials at the Tokyo Games. She now hopes to focus on keeping up the world-class running career.
Belarus and Russia
Aug 9: Opinion: A year after anti-Lukashenka protests began, Belarus within Putin's reach
The Kremlin bailed out Belarus' dictator Aliaksandr Lukashenka, helping him crush his opposition. The price for that help may be Belarusian sovereignty, writes DW's Konstantin Eggert.
Inside Belarus
Aug 10: Authorities dissolve PEN Belarus
On 9 August, the first anniversary of the disputed 2020 presidential election, the Supreme Court of Belarus ruled to close down the Belarusian PEN Center, a member of PEN International.
Aug 15: Belarus will be ready to divert fertilizer transit from Lithuania to other ports by December
Belarus' Prime Minister Roman Golovchenko doesn't see a problem with Lithuania's announcement about the plans to stop transit of Belarusian fertilizers. Mr. Golovchenko says that Belarus will be ready to ship its fertilizers through alternative transit routes by December, adding, "we are negotiating this matter with Russian partners". According to him, the options under consideration include ports in Murmansk and Leningrad region.
Interesting Read
News from the Belarusian Diaspora in the U.S.
How civil society organizations became the Lukashenka regime's latest target
In late July, the Belarusian authorities shut down 50 nonprofit organizations simultaneously, targeting human rights activists and environmental, educational, and cultural groups. Dozens of other organizations are facing liquidation. Meduza looks into why the Belarusian authorities are still carrying out large-scale repressions, although there haven't been mass protests in Belarus for some time now.
The Belarusian Armed Forces: Structures, capabilities, and defence relations with Russia
This analysis uses open-source intelligence to examine the structure and capability of the Belarusian armed forces today. It describes the de facto subordination of the Belarusian armed forces to Russia's military command structures and their wartime role of providing substantial logistic support to Russia's armed forces. Although Belarusian armed forces are understaffed and mainly equipped with dated weapon systems, as Russia's only ally on its western border, Belarus would play a critical role in the event of a Russia-NATO conflict.