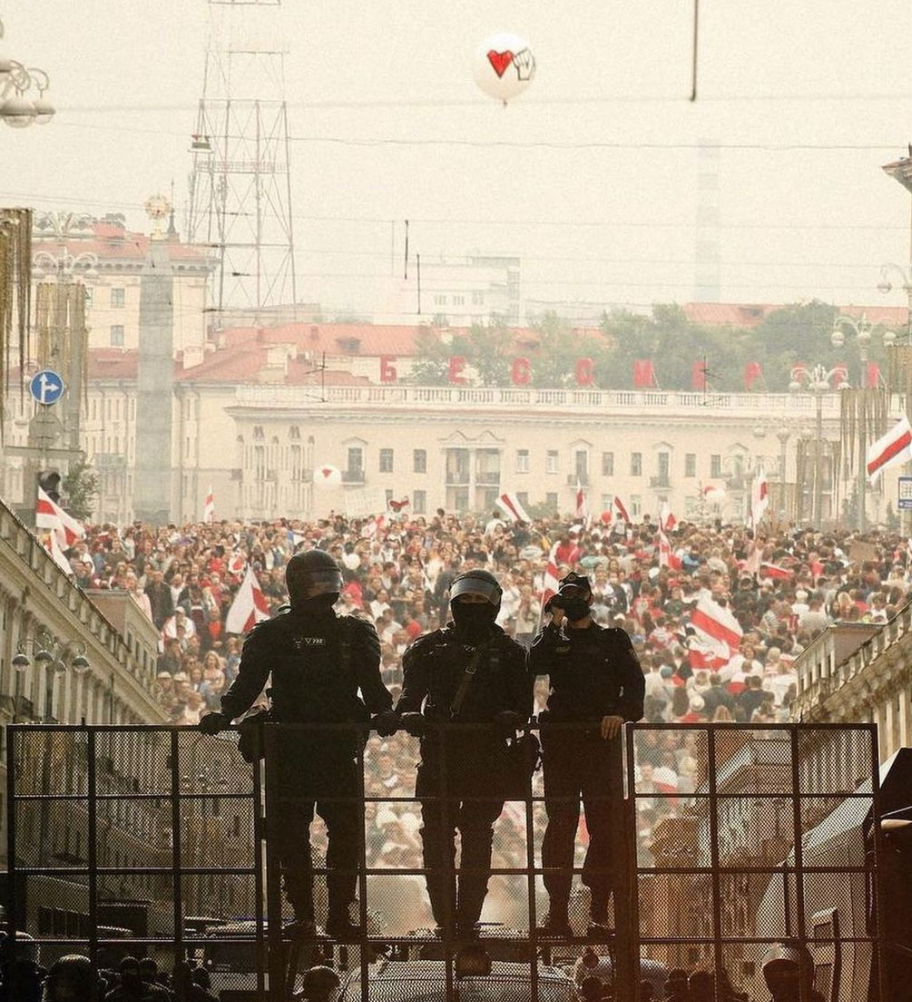 Top Stories
Aug 16: Belarusian activist who slit his own throat in court gets lengthy prison term
Political prisoner Stsiapan Latypau was sentenced to 8.5 years in prison and a $4,000 fine on Monday, as the prosecution requested. Latypau pleaded not guilty to all charges. Earlier, he attempted suicide in the courtroom, alleging pressure to enter a guilty plea under threats of retaliation to his family. In his final statement, Latypau testified about the unspeakable physical and psychological tortures he experienced in detention.
Aug 18: Belarus dictator escalates E.U. border migrant crisis
Over 4,000 migrants have been detained for illegally crossing the Belarus-EU border this year so far. The detainees include Russian nationals. Latvian Foreign Minister Edgars Rinkevics suggested that Lukashenka is trying to incite a conflict during the upcoming Zapad-2021 joint military exercises.
Aug 20: 32 Afghans trapped between Poland and Belarus
Held victims to the "hybrid migrant war" instigated by Lukashenka, 32 Afghan refugees are stuck between the neighboring countries. Poland won't let them cross the border, while Belarus is blocking their attempts to come back. In response to a migrant surge at its border, Poland has deployed more than 900 troops to reinforce its Border Guard.
Aug 20: Merkel makes farewell trip to meet Putin amid "deep disagreements"
German Chancellor Angela Merkel and Putin discussed a long list of contentious topics during Merkel's last official visit to Russia before retiring from politics. In discussion, Merkel condemned Minsk for using refugees at its borders as "hybrid weapons" in retaliation to Western criticism of Lukashenka's continued rule. Putin said that the situation in Belarus should be settled without interference from the outside.
Aug 20: "Our goal is to keep the regime on its toes": Inside Belarus' underground opposition
The article offers insight into the inner workings of the underground Belarusian opposition. Despite the harsh and often arbitrary repression meted out by security agencies, thousands of activists are working clandestinely to spread dissent and undermine the Lukashenka regime. Staging protests in secluded pine forests, they call themselves "partisans" in a nod to World War II-era antifascist guerrillas.
Analysis
Aug 18: Opinion: Biden should not let the IMF throw a lifeline to Belarus' dictator
On Monday, Belarus is to receive $1 bn in the International Monetary Fund (IMF)'s special drawing rights. The transfer will significantly boost Lukashenka's regime, given that Belarus is estimated to have only about $7 bn in reserves. The op-ed by The Washington Post's Editorial Board says delivery of this aid package to the illegitimate government in Minsk contradicts both the current U.S. policy and common sense.
Repressions in Belarus
Aug 16: Belarusian court bans TUT.BY and affiliated news website Zerkalo.io as "extremist"
Back in May, authorities raided the offices of independent news website TUT.BY, interrogated 130 employees, blocked the website, and detained 15 employees and associates on the alleged tax evasion charges. On August 13th, the Minsk National Court ruled that all content on TUT.BY and Zerkalo.io is "extremist," thereby banning both platforms.
Aug 18: Chief editor of independent Belarus news agency missing after raid
A police raid swept through the homes of workers of the online news agency BelaPAN, one of Belarus' leading independent news outlets, detaining its chief editor, among others. The Belarusian Association of Journalists says at least 30 Belarusian reporters are currently in jail and that police are investigating close to 50 different criminal cases against members of the media.
Aug 21: 6 more political prisoners convicted over "riots" in Brest
On August 20, 2021, Maskouski District Court of Brest convicted six people for "mass riots," which allegedly took place last August. The Court sentenced two of them to four years in prison, three to three years, and one person received a 3.5 year term. During the trial, one of the defendants stated that he was beaten after his arrest.
Aug 20: 4 more political prisoners convicted in defamation trials
This week, four political prisoners—Hanna Illyina, Viachaslau Karatkevich, Mikhail Berasniou, and Piotr Zinevich—were convicted this week for "insulting the president, government officials (police officers), judges and state symbols."
Aug 17: Exiled Belarus media find hope over fear in Ukraine
Many journalists forced to leave Belarus are settling in Ukraine and continue to provide coverage about the situation back home. Unwilling to give up, they are worried about the possibility of reprisals against their relatives who are still in Belarus. Some are concerned for their own safety after the Belarusian activist Vital Shyshou was found hanged in a Kyiv park earlier this month.
Belarus and U.S.
Aug 17: The vital fertilizer that's driving multibillion-dollar bets
A multi-billion dollar fertilizer industry is focused on how the U.S. sanctions on Belarus' state-owned potash producer will affect the supply of the nutrient essential to producing food for growing populations as the prices soar. Just a handful of producers control the world's supply of potash, a little-known commodity vital for feeding the world.
Belarus and Europe
Aug 13: Fertilizer maker Yara to decide on its presence in Belarus by December
Norwegian fertilizer maker Yara said on Friday it would decide on its presence in Belarus by December, after meeting with Sviatlana Tsikhanouskaya. Meanwhile, they promised to use their position to advocate for the workers' safety and human rights. Tsikhanouskaya said Yara is "an important long-term partner for Belarus" and called on the company to freeze its activity in Belarus "until rule of law and democracy are reestablished."
Aug 17: Lithuania says Belarus officers illegally crossed border while pushing in migrants
A video published by Lithuania's border guard service shows a group of Belarusian officers in riot gear standing on the Lithuanian territory during a scuffle involving a group of migrants crossing the Belarus-Lithuania border. Lithuania will increase its border patrols presence in response to the incident.
Aug 17: Germany's Merkel condemns Belarus' treatment of refugees
German Chancellor Angela Merkel condemned in the strongest terms Belarus' use of refugees as a hybrid way to undermine the security of the E.U. She promised to consult with the E.U. partners to deliver a coordinated response to the criminal actions of the Lukashenka regime.
Aug 17: The Belarusian opposition—alive and kicking
Opposition leader Sviatlana Tsikhanouskaya and her supporters are prevailing, thriving despite the ongoing repression campaign staged by Lukashenka's security forces. Recently, Tsikhanouskaya and her team met with Western dignitaries. The meetings help keep the international spotlight on Belarus and encourage the West to impose additional sanctions on the Lukashenka regime.
Aug 18: E.U. condemns Belarus' "aggressive behavior" at border
The European Union has condemned Belarus' "aggressive behavior" of pushing asylum seekers across the country's border with the bloc in a "direct attack." More than 4,100 asylum seekers have crossed the border from Belarus into Lithuania alone this year. The amount of migrants crossing the border from Belarus to Latvia and Poland has also increased.
Inside Belarus
Aug 19: Human rights defenders call to release BelaPAN employees
Last week, Belarusian authorities searched the Minsk office of the BelaPAN news agency, one of the biggest in the country, and its employees' homes. After the raid, several journalists were detained temporarily, with BelaPAN's director Iryna Leushyna, former director Dzmitry Navazhylau, and accountant Katsiaryna Boyeva remaining in custody.
Aug 22: Belarusian political dissidents on spreading their message of freedom: "We never know when our life will end"
Natalia Kaliada and Nikolai Khalezin are the artistic directors of the award-winning Belarus Free Theatre who now both live in exile in London. Despite a government ban on their theater and its activity in Belarus, the theater still performs provocative work worldwide, with rehearsal conducted over Skype. Natalia and Nikolai talk about their work, defiance of censorship, and putting aside their fears in this interview.
Interesting Read
Aug 20: Hearing the police "Would Come Soon," this couple fled Belarus. Will they ever return?
Aliaksei and Maryia Dalbenka participated in protests and rallies, joined the Coordination Council, and were active members of the Committee Against Torture. In September 2020, the Dalbenkas immigrated to Toronto, Canada, where they joined the Belarusian diaspora. The article describes their immigration and adjustment to life in the new country.