Key Events: August 30 - September 6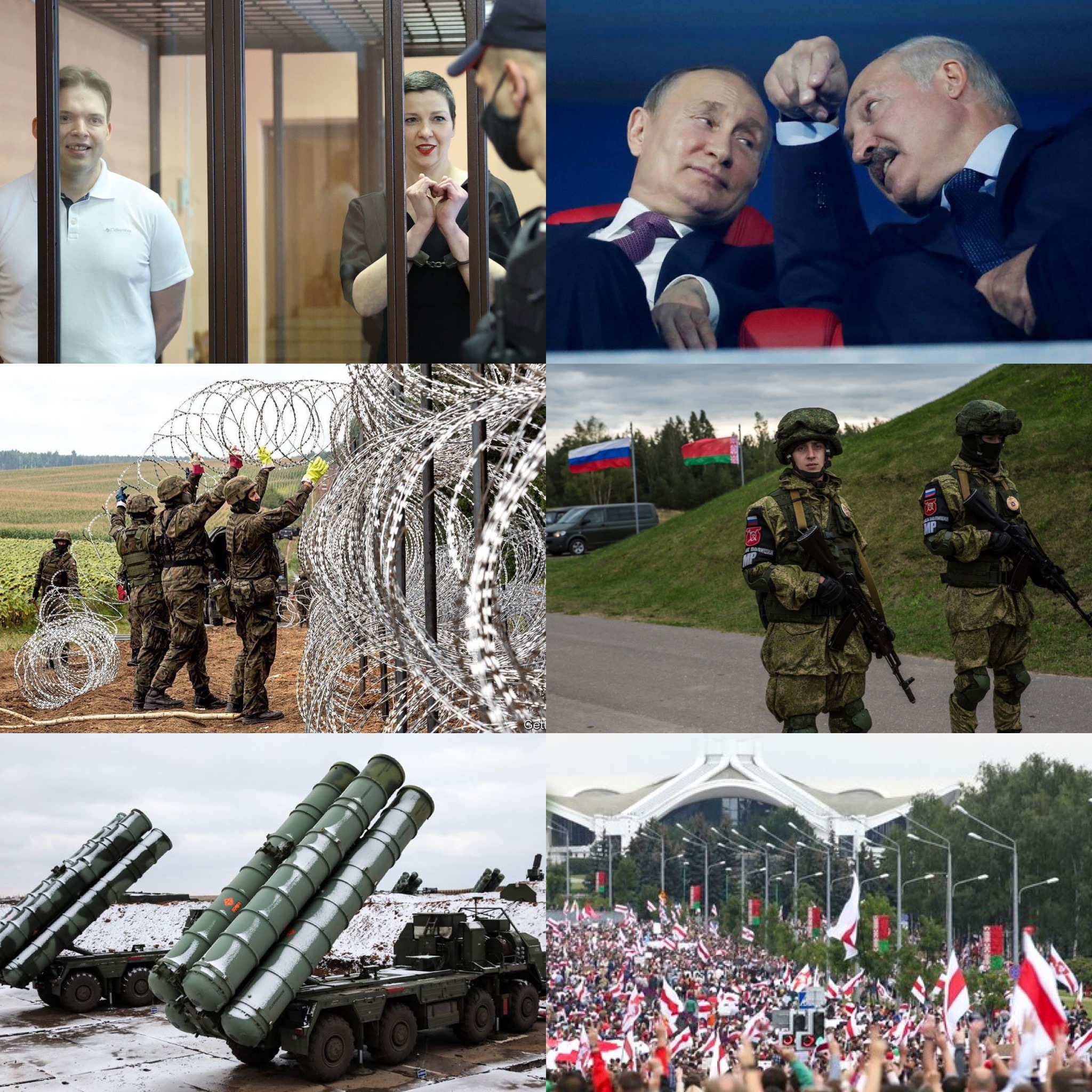 Top Stories
Sep 6: Belarus opposition leader sentenced to 11 years in prison
A Belarusian court has sentenced the senior opposition leader Maryia Kalesnikava and the Tsikhanouskaya campaign's former lawyer Maksim Znak to 11 years and 10 years in prison, respectively, after a two-month-long trial behind closed doors. Last year Maryia tried to run for president, after a prominent banker, Viktar Babaryka, whose campaign she managed, was barred from running and thrown in jail. U.S. Secretary of State Antony Blinken on twitter called for their "immediate and unconditional release".
Aug 31: Lukashenka and Putin will sign all road maps on integration of Belarus and Russia
The Belarusian ambassador to Russia, Uladzimir Siamashka, announced the signing of the final road map during the meeting between Lukashenka and Putin on September 9. If it indeed happens, the signing will mark the end of a two-year-old struggle by Lukashenka to wiggle his way out from getting incorporated by Russia.
Sep 1: Putin militarizes Belarus
Putin's birthday wishes to Lukashenka and a pledge of full Russian support for his regime this year come with strings attached. Ahead of Zapad-2021 joint military exercises, Russia is sending weapons and military personnel to Belarus, in what some analysts believe would result in Russia's permanent military presence in Belarus.
Aug 30: The IMF needs to sync its Belarus policy with the West
Nigel Gould-Davies, a British Ambassador to Belarus in 2007-09, believes that the IMF decision allowing the Lukashenka regime access to the IMF SDRs allocation intended to soften the impact of the pandemics is a serious mistake. The IMF allocation undermines the Western sanctions on Belarus and supports "Russia's goal to keep Lukashenka in power." Providing the funds at the time when grave human rights violations occur in Belarus is "neither morally nor strategically sustainable." Lukashenka mishandled the pandemic crisis and, ironically, refused the IMF's COVID-19 relief loan in June 2020.
Sep 2: RSF urges international support for "persecuted" Belarusian journalists
Reporters Without Borders calls on the international community to offer refuge to the Belarusian journalists who are forced to flee Belarus to avoid persecution amid an intensifying crackdown on civil society and media. The recent forced closure of the Belarusian Association of Journalists (BAJ) is the latest attack on remaining free media in Belarus. BAJ has supported journalists and press freedom regardless of constant harassment by the Belarusian authorities for over 25 years. Since the summer of 2020, the scale of repression on the independent media has reached an unprecedented level. Belarus is rated the 158th out of 180 countries in the group's 2021 World Press Freedom Index.
Sep 3: Belarusian Cyber Partisans want to overthrow the regime through hacking
In July, the group of hackers claimed responsibility for a number of cyber attacks on government and law enforcement databases. It recently reported that it now had access to the passport details of Belarusians, security plans, and wiretapping lists, revealing that the Lukashenka regime spies on its own bureaucrats. Unable to defend against the attacks, the regime is considering storing sensitive information in hardcopy only from now on.
Analysis
Sep 3: Broadening the pressure on the Lukashenka regime
One year after the fraudelant 2020 presidential election in Belarus, the Western world keeps imposing tougher and tougher sanctions against Lukashenka and his regime as a punishment for his human rights abuses, forcing down of a commercial plane, and possibly responsible for the death of an activist in Ukraine last month. Yet despite these efforts, there were setbacks. For instance, the IMF recently allocated almost a billion dollars to Belarus in Special Drawing Rights, which can be converted into cash. The article explored the IMF allocation and possible strategies of how to better counter Lukashenka and his regime.
Sep 1: Taming the bear: Russia's huge exercises test NATO resolve
Zapad 2021 military exercise, led by Russia, will officially begin on September 10 and will last for seven days. Even though the exercises repeat every four years, the ones taking place this year will be particularly menacing, given the build up of Russian troops on the border with Ukraine in April this year and a continuation of brutal repressions in Belarus. The article explores the importance of Zapad 2021 exercises and possible adjustments the NATO alliance can adopt in order to combat the Eastern threat.
Belarus and Russia
Aug 30: Russian military to create Russian-Belarusian combat training center in Hrodna
Russia will form a training and combat center for joint training of the Air Force and the air defense forces in Hrodna—a western Belarusian city right by the border with Poland and Lithuania. Russian military aircrafts were also expected to arrive at the airfield in Baranavichy earlier this week.
Sep 3: Russia sees no obstacles to providing S-400 systems to Belarus, official says
Lukashenko said on Wednesday that Russia would soon provide his country with "dozens" of planes, helicopters, anti-aircraft weapons and perhaps the S-400 missile systems. There are no obstacles to providing Russia's S-400 air defense systems to Belarus, Director of Russia's Federal Service for Military and Technical Cooperation Dmitry Shugayev told reporters on Friday.
Border Crisis
Sep 2: Europe's latest migrant crisis leaves refugees stuck between two borders
It is the first sight of men with guns in the village since Poland's communist rulers declared martial law 40 years ago. But the villagers of Nowy Dwor, three miles from the border with Belarus, say they feel protected by the makeshift barracks that have been set up on the school sports field. Soldiers are here to patrol a frontier that seldom required close supervision before the events of this summer.
Sep 3: Trapped between Poland and Belarus, 32 Afghans—and their cat—have become symbols of Europe's new border crisis
The migrant crisis continues as Warsaw now declares a state of emergency on the border with Belarus. Following Lithuania and Latvia, Poland is now the third E.U. member to impose an emergency state near Belarus. With both sides accusing each other of inhumane refugee treatment, it is people themselves who have to pay the ultimate price for Lukashenka's hybrid war of migrant trafficking.
Repressions in Belarus
Sep 1: Belarus authorities close down environmental watchdog Ecodom
After the inspection of the NGO Ecodom in early July, the Belarusian authorities accused the Ecodom of "violations," issued a warning, and then ordered a closure of the organization. After the inspection and the unsuccessful appeal to the Belarus Supreme Court, the authorities closed Ecodom, the organization that has been promoting a healthy lifestyle and sustainable living for the past 25 years. The director of Ecodom, Maryna Dubina, is under criminal investigation for the" instigation of mass riots" and "violating the public order."
Sep 2: Over 200 people detained in August, HRC Viasna reports
According to Viasna—a human rights organization established in 1996—there were over 200 arrests in Belarus related to political activity. That included arrests of peaceful protesters and those who were spotted with the white-red-and-white flag. In addition to that, Viasna reports that Belarusian authorities have liquidated approximately 200 non-profit organizations, as of the end of August.
Sep 3: Belarusian human rights defender Sudalenka, two assistants go on trial
Leanid Sudalenka—a prominent Belarusian human rights lawyer—and two of his assistants are on trial for providing legal help to activists and journalists. The trial, conducted behind closed doors on September 3, is seen as a continuation of the crackdown against any forms of dissent that started in Belarus last year.
Belarus and US
Sep 2: Cummins stops cooperation with BelAZ
Cummins, a U.S. corporation that provides engines to BelAZ, has announced it is shutting down all forms of cooperation with the Belarusian automobile plant due to the violations of workers' rights and human rights abuses. Earlier, Rolls Royce Group, which supplied engines to BelAZ, also announced it had stopped all operations with the plant. The European Union previously included BelAZ in its list of sanctions over human rights abuses.
Belarus and Europe
Aug 31: Lithuania pushes for E.U. ban on Belavia leases
Belavia and other Belarus-based carriers are prohibited from flying in E.U. airspace after a state-backed hijacking of Ryanair B737-800 in Belarus, but they are not sanctioned economically. Politico reports Lithuania is lobbying in the European Union to ban European lessors from dealing with Belarus carrier Belavia over its alleged involvement in state-sponsored people smuggling.
Sep 2: Poland says it is taking steps to counter any threat from military drills in Belarus
Poland recently stated it will adopt measures to monitor and counter possible threats from the upcoming military exercise Zapad 2021 set to begin on September 10 in Belarus.
Sep 3: ICAO confirms it expects to conclude investigating Belarus Ryanair incident by November
The International Civil Aviation Organization (ICAO) confirmed on Friday that it expects to complete the investigation into the Ryanair incident in November.
Sep 5: Poland gives humanitarian visa to second Belarus athlete
Poland has recently stated that Olga Safronova—an athlete from Belarus—received a humanitarian visa. She is the second athlete who received such a visa from Poland. Her problems began when she made comments about Lukashenka's regime while competing at the Olympics. She was subsequently removed from the team and assigned an "enemy of the state" status.
Inside Belarus
Sep 1: "I ask to stand up for good": Political prisoner Ihar Losik sends letter to Pope Francis
Ihar Losik, an imprisoned blogger and media consultant, called on Pope Francis to denounce people participating in mass repressions of others. Ihar asked Pope Francis "to stand up for good, for truth, for justice" for thousands of Belarusians who strive for freedom and share the same fate of being persecuted as Ihar Losik.
Sep 1: Belarus strongman targets crypto mining
Lukashenka spoke at the opening of the Petrikovsky mining and processing plant, the largest investment project for state-owned Belaruskali. He argued workers should go into crypto-mining rather than go abroad for less-paying farming positions. According to him, Belarus has enough electricity to pursue cryptocurrency mining, with a number of abandoned sites that could provide revenue.
Sep 2: ENSREG inspection started at the Belarusian NPP
Experts from the European Nuclear Safety Regulatory Group (ENSREG) are visiting the Belarus NPP in Astravets, Hrodna region, from 31 August to 2 September as part of the second phase of the peer review of the national action plan following the plant's stress tests. They will assess the progress in the implementation of the national action plan and analyze progress in the implementation of the planned activities by Belarus.
Sep 1: Lukashenka upbeat on potash prospects as sanctions bite
Aliaksandr Lukashenka endorsed the muriate of potash (MOP) fertilizer industry during the Miners' Day holiday. While the sanctions may create significant challenges for Belarus Potash Company to use the Klaipeda port, Lukashenka pointed to his long-time ally Russia as a possible solution.
Sep 1: Belarus' Kalesnikava shortlisted for Human Rights Prize
Jailed Belarusian opposition figure Maryia Kalesnikava has been shortlisted for the Vaclav Havel Human Rights Prize, which is awarded each year by the Parliamentary Assembly of the Council of Europe. Kalesnikava is a member of the opposition Coordination Council and one of the three female symbols of the opposition and their struggle for civil and political liberties
Aug 30: Belarusian authorities drop fraud case against IT company PandaDoc
Belarus' Attorney General's Office announced that PandaDoc's fraud case was closed on August 30. Defendants in the case pleaded guilty and testified about the incident.
Interesting Read
Sep 4: Belarus journalist chosen as inaugural winner of Hinzpeter Awards
Belarusian video journalist Mikhail Arshynski, a cameraman for Poland-registered satellite broadcaster Belsat, has been awarded the inaugural Hinzpeter "The World at a Crossroads Award." This award commemorates the late German reporter, the first Western journalist to send out footage of the bloody crackdown on South Korea's pro-democracy uprising in the early 1980s.
Sep 4: Ukraine continues cooperation with Belarusian security services
As part of a 1992 agreement and protocols signed in 1993–2006, the Ukrainian Security Service exchanges information with the Belarusian KGB. The police cooperate with the "competent authorities" in Belarus on behalf of the Prosecutor General's Office. Ukraine has extradited 16 Belarusians since the protests started, contacted Belarus' special services about terrorism five times, and hundreds of times about violation of the border.