Key Events: September 6-13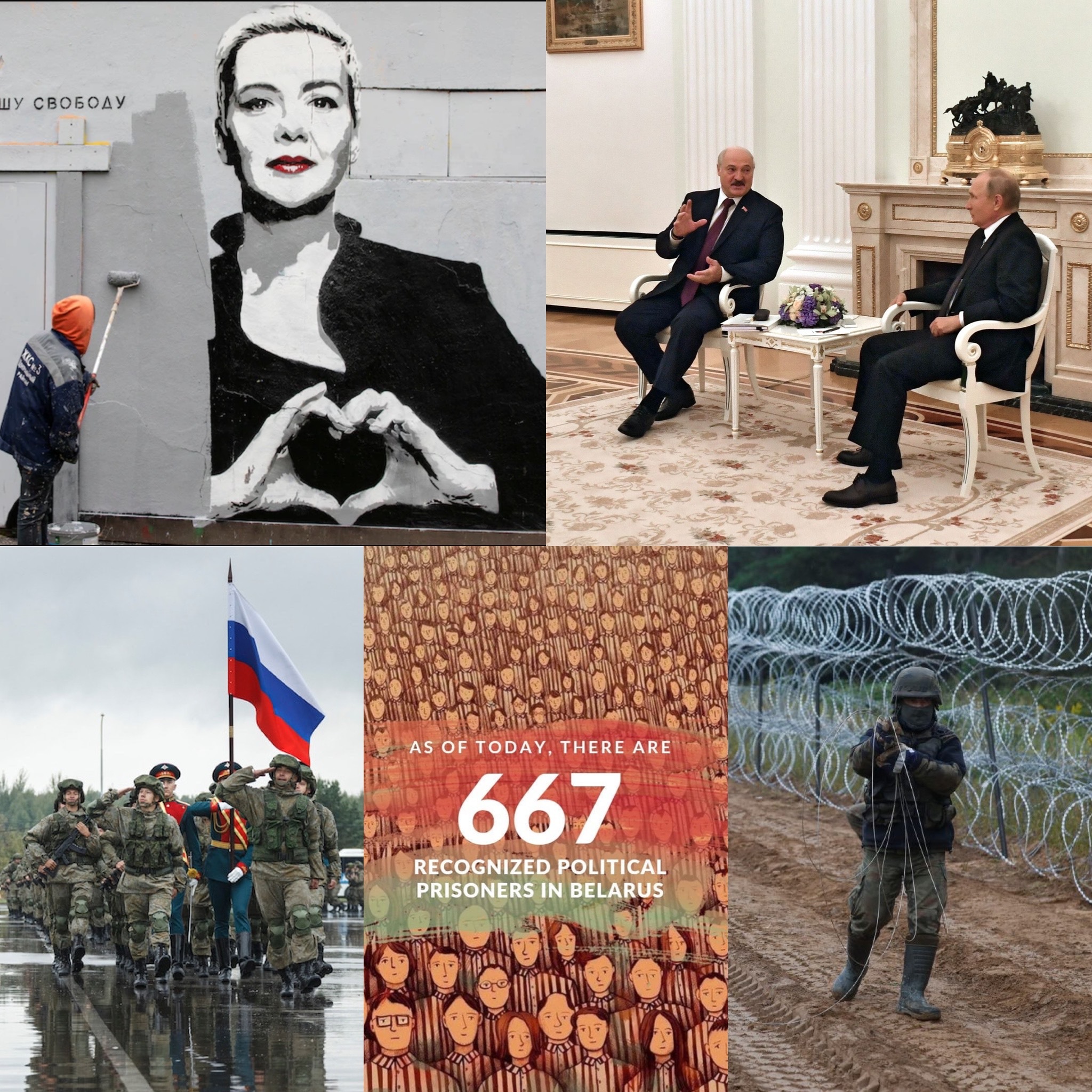 Top Stories
Sep 9: Putin and Lukashenka move to integrate economies of Russia and Belarus
Lukashenka and Putin have signed 28 "road maps", further increasing Russia's influence over Belarus. They agreed to coordinate the countries' macroeconomic policies, institute common tax and customs measures, harmonise other financial controls, and to integrate energy markets. Putin has agreed to provide Lukahsenka with $630m in loans. The texts of the agreements are not publicly available. It was their sixth time meeting this year, signaling Russia's support of the embattled Lukashenka regime despite the Western countries dismay of the human rights abuse in Belarus.
Sep 10: Russia begins major military drills with Belarus after moves toward closer integration
Russia and Belarus are holding the Zapad military exercise right after Lukashenka and Putin sign agreements on close integration of two countries, also suggesting long-term Russian military presence in Belarus. The Russian defence ministry says up to 200,000 military personnel, some 80 aircraft and helicopters, up to 15 ships and nearly 300 tanks will take part in the exercise. Lukashenka is increasing military control of the country to ensure his grip on power.
Sep 6: IOM concerned for migrants facing "dire conditions" at EU-Belarus border
The International Organization of Migration warned on Monday that migrants are facing "dire conditions" at the European Union-Belarus border, who for several weeks have had limited access to drinking water, food, medical assistance, sanitation facilities, and shelter. State of emergency took effect in areas of Eastern Poland following similar measures declared by Lithuania and Latvia this summer. Poland declared plans to build a fence along the border with Belarus while UNHCR called on Polish authorities to provide immediate assistance to the migrants.
Sep 8: Lukashenka wants to suspend EU agreement on migrants
Already playing key role in the influx of the illegal immigration at the borders with Poland and Lithuania, the Lukashenka's regime now wants to formalize their intentions through the legislation. The readmission agreement with the EU was signed by Belarus right before the disputed 2020 elections and obligated Belarus to take back the migrants who crossed the border illegally. Lukashenka now plans to end this agreement.
Sep 10: IMF to launch virtual mission to Belarus to gather data on economy
The International Monetary Fund plans to conduct a virtual mission in Belarus to gather more information on economic development and the Belarus' government response to the COVID-19 pandemic. The monitoring will be initiated to address concerns about the IMF allocations disbursement to Lukashenka's government. The mission, which will conduct interviews online, will lay the groundwork for a comprehensive 'Article IV' economic surveillance mission in December.
Analysis
Sep 9: Opinion: A brave woman in Belarus gets 11 years in prison. Her crime? Trying to bring democracy to the country
As the regime's reserves in Belarus register a healthy increase of 1B dollars, courtesy of a very poorly timed IMF international aid package, Lukashenka's machine of terror has no signs of slowing down. Two more prominent opposition figures, Maryia Kalesnikava and Maksim Znak were sentenced to 10 and 11 years in jail by Lukashenka's kangaroo court.
Sep 8: Belarus and Europe's new Iron Curtain
Leveraging Lukashenka's isolation and vulnerability, Putin's Russia now has the leverage to push its military agenda in Belarus without the need to resort to radical measures, like the Crimea scenario in Ukraine. Along with the news about Russian troops taking part in West 2021 military drills on the Belarusian territory, now there are also talks about Russia establishing a permanent footprint in Belarus by placing its military base there. As Brian Whitmor writes, "a new Iron Curtain could indeed be descending on Europe".
Sep 10: Belarus Review by iSANS
In the year following the disputed 2020 presidential elections, Lukashenka's regime has acquired the features of the para-fascist dictatorship. Even though it lacks a clearly defined ideology normally found in the fascist states, the regime heavily relies on police force as the main method for controlling civil society. Policies of revenge, the likes of hybrid war through the migrant crisis or the nuclear blackmail are likely to continue to dominate the foreign agenda.
Sep 11: Moscow hesitated in Poland—will it in Belarus?
Analysing the Soviet tactics employed in 1980's to scare Polish leaders into cracking down on their own protesters, the article weighs differences and similarities with the situation in Belarus. Fearing that the "color revolution" in Belarus would encourage other neighbors to loosen their ties with Russia, Russia might be using Zapad military exercises to pressure Belarus further. The West response options are then discussed.
Sep 10: NATO's Russia-watchers ready for action
As Russia and Belarus are beginning huge military exercises on western borders, Steven Horrell is discussing possible scenarios that present NATO with challenges, security risks, and opportunities. The article walks through NATO intelligence activities and partnership programs that can be tested during the Russia-Belarus exercises, particularly focusing on intelligence, surveillance, and reconnaissance (ISR) collection.
Sep 12: Investigation: Putin's best friend and Lukashenka's wallet
Ukraine authorities placed the main pro-Russian politician and associate of Lukashenka, Viktor Medvedchuk, under arrest. He is accused of attempting to steal national resources in Crimea, passing the state secret information to Russian intel agents and anti-Ukrainian organizations. Medvedchuk played a key role in establishing financial schemes in the oil trade market between Belarus, Russia and Ukraine.
Border Crisis
Sep 10: German President and Chancellor assure Poland of backing in crisis with Belarus
During her last official visit to Poland, German Chancellor Angela Merkel called Belarus' practice of transporting migrants over the EU border completely unacceptable. She backed her Polish and EU partners and called on Belarus to end the hybrid war. German President Frank-Walter Steinmeier has also expressed his support during phone call with Polish President Duda.
Sep 12: Iraqi refugees being steered through the forests of Belarus and into the EU
The story follows an Iraq's artist and persecuted Yazidi minority who saw a Facebook post that advertised a guaranteed route to Europe via Belarus for just €5,000. Although she never heard of Belarus, the post promised a flight and a short walk, to essentially travel from the Iraqi displacement camp where she lived to a new life in Lithuania, an EU member state. She didn't know she was about to become an unwitting pawn in what Lithuanian officials say is a plot by Belarus's autocratic leader to destabilize the region by flooding his EU neighbors with thousands of migrants from Iraq and Syria in revenge for European sanctions.
Repressions in Belarus
Sep 13: International Federation for Human Rights call to action
This week, September 17, 2021 will mark one year since the beginning of the crackdown on Viasna, FIDH's organisation member and leading Belarus human rights NGOs. Jointly with Viasna, FIDH calls for a global rally under the hashtag #FREEVIASNA to stand in solidarity for our imprisoned colleagues and Belarus civil society.
Sep 7: U.N. blocked from monitoring rights abuses in Belarus, envoy says
The Belarus government's crackdown on human rights organizations obstructed the ability of the United Nations to document abuses, the U.N. envoy said. The monitoring mission is not allowed into the country and relies on local human rights activists. Anais Marin believes the crackdown is not a coincidence. "Last year, I assessed the situation in Belarus as catastrophic. I'm lacking words now to express my interpretation of the situation. I could not imagine it could get so much worse", Marin said.
Sep 10: No, the terror in Belarus is not going to stop
Ihar Iljash, a Belarusian political analyst, believes that the terror in Belarus is not going to be short-lived. Lukashenko's ruthless actions against dissidents are intended to instill fear and bring Belarusian society into a state of absolute submission. The course towards building a totalitarian state, taken by Lukashenko in the summer of 2020, presupposes demonstrative cruelty towards the regime's opponents. For the future of the dictatorship, this is essential. With the electoral revolution having taken place, the only way to retain power is through terror.
Belarus and U.S.
BelarusBrief: News from the Belarusian Diaspora in the USA, August 2021
Sep 6: Secretary of State statement on sentencing of Belarusian opposition figures
The US State Department issued a statement on sentencing of the Belarusian opposition leaders Maryia Kalesnikava and Maksim Znak demanding from the Belarusian authorities to end the campaign of political repressions, to unconditionally release all political prisoners, and to start a dialogue with the democratic opposition.
Sep 9: Open letter from Friends of Belarus Caucus and members of Congress
In an open letter, the members of the House Friends of Belarus Caucus and the bipartisan members of the House of Representatives pledged their support of the democratic Belarus and their commitment to work on measures such as sanctions to force the Belarusian regime to release Maryia Kalesnikava, Maksim Znak and all political prisoners.
Belarus and Russia
Sep 10: RBC: Belarus starts negotiations about $3 bln loan
The Belarusian authorities are counting on a Russian loan of three billion dollars, which will be partially or fully provided by the Eurasian Fund for Stabilization and Development. Russian Finance Minister Anton Siluanov (also Russia's authorized representative to the EFDF) said that Russia could provide additional support to the Belarusian authorities, as "the neighbor is in a difficult financial situation."
Sep 9: Russian court orders extradition of Belarusian activist to Minsk
A Russian court has ordered a Belarusian man extradited to Minsk, where he faces charges of participating in protests against Belarusian authoritarian leader Lukashenka. He may face up to eight years in prison if convicted in Belarus.
Inside Belarus
Sep 10: Belarus' export up by 32.2% to $26bn in January-July
According to the National Bank of Republic of Belarus, in January-July 2021 Belarus' export of merchandise and services rose by 32.2%, foreign trade went up by 30% and import was up 27.8% compared to the same period last year.
Sep 12: Lukashenka says on Sunday he won't speak to West until sanctions lifted
President of the European Council Charles Michel asked Putin to put pressure on Minsk to change policies of the Belarusian leadership. Lukashenka replied that "until these stupid sanctions and humiliation of our people are lifted and alleviated, we won't speak with them," BelTA news agency quotes.
Interesting Read
Sep 8: Deciphering Russia's Zapad-21 strategic military exercise
Chatham House Research Fellow Mathieu Boulegue's webinar on the upcoming Zapad-2021 exercise. The briefing explains the exercise goals, as well as how the large-scale drills will unfold across the territories of Russia and Belarus. It also addresses the geopolitical context behind the exercise and highlights what international attention should focus on.
Sep 9: Opinion: Vladimir Putin, agent of chaos, is using a huge military exercise to keep the West on edge
Following the escalating repressions in Belarus and the use of immigrants as a hybrid weapon to attack Europe, the concerns that Russia could use Zapad 2021 to spring other surprises on the West have deepened. The article discusses Russia's current foreign policy and calls on Western leaders to "call out their military mind games in Eastern Europe".