Key Events: September 13-19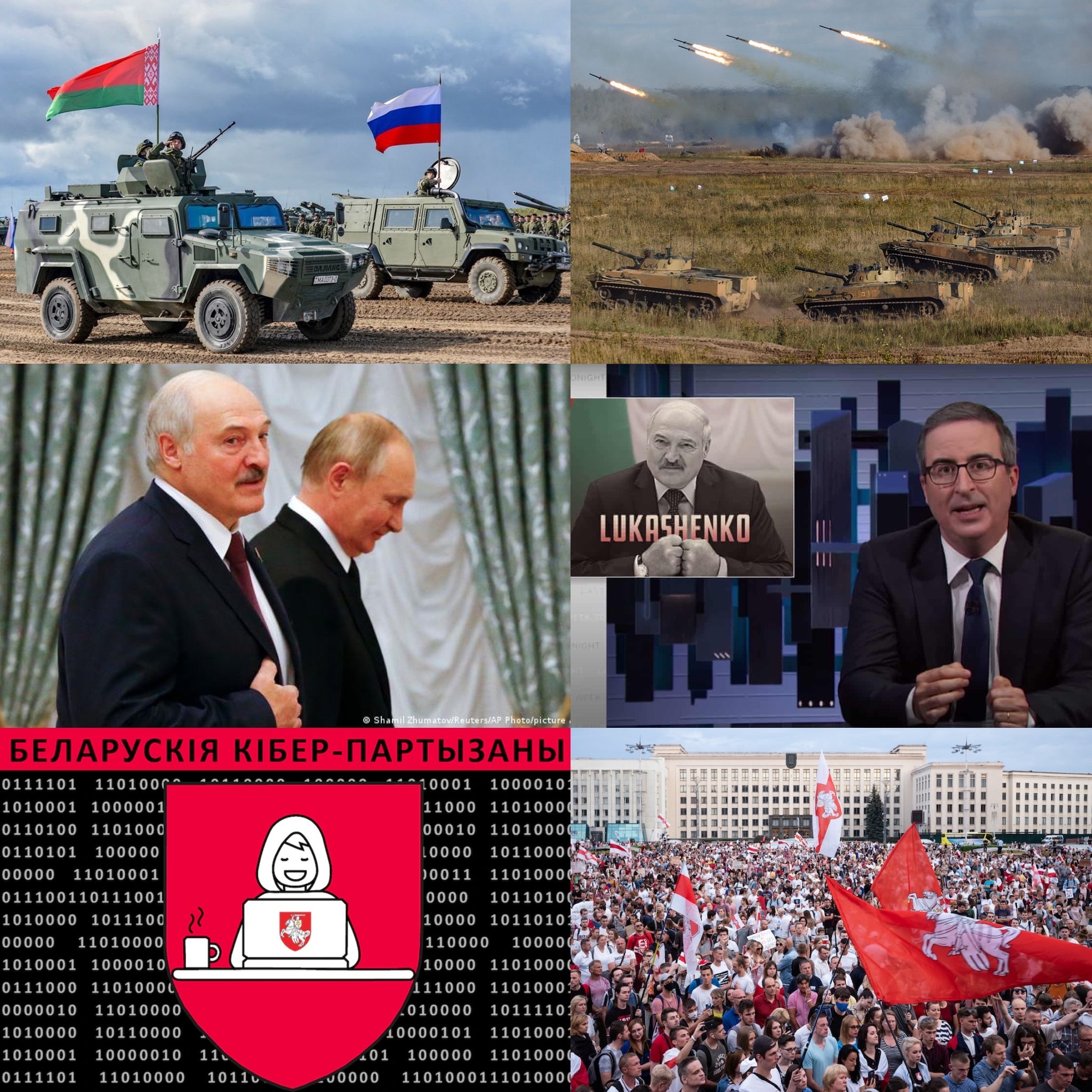 Announcements & Events
Top Stories
Sep 14: How Belarus' "Cyber Partisans" exposed secrets of Lukashenka's crackdowns
The crackdown on dissent in Belarus after last year's election was brutal, methodical and relentless. Yet, although the public protests on the streets were suppressed, the opposition came up with more creative ways to combat the country's authoritarian leader. In July, the group of so-called "ethical hackers" accomplished, perhaps, the biggest hack in the country's history, breaking into the government computers and obtaining more than five terabytes of data. Last week, Belarusian Cyber-Partisans published a portion of records from the massive cache of information seized from the Ministry of Internal Affairs. This includes details on police informants, personal data on top Belarusian officials, tapped phone calls, and other sensitive information.
Sep 15: Belarusian opposition leader urges "decisive action" to resolve standoff
As the number of political prisoners in Belarus reaches 674, the opposition leader Sviatlana Tsikhanouskaya goes to Paris on an official visit. In her meeting with French Foreign Minister Jean-Yves Le Drian, Mrs. Tsikhanouskaya called on French President Emmanuel Macron and the leaders of the other European countries to maintain a "firm and principled" stand in the relations with the Belarusian dictatorship.
Sep 15: Belarus accused of using Interpol to harass opponents abroad
Polish Interior Minister calls on Interpol to review their procedures, as Lukashenka's regime is again accused of abusing the agency's "red notice" process and using it as a tool to harass political opponents abroad. This time, Makary Malachowski, a Belarusian opposition figure who had fled to Poland on a humanitarian visa, was arrested by local police on the Interpol orders only to be released soon after the case review was completed. Interpol Secretary General Jürgen Stock will arrive in Poland in November to discuss the prevention of the use of the requests submitted to Interpol by Belarus and Russia with the goal to prosecute political opponents. Similar issues prompted the creation of the Transnational Repression Accountability and Prevention (TRAP) Act, introduced in the U.S. Congress in 2021. The key goal of this legislation is to "prevent autocrats from harassing their own citizens overseas".
Border Crisis
Sep 19: 4 found dead, 7 more hospitalized on Belarus-Poland border
Four people were found dead Sunday on the Belarus-Polish border according to officials from both countries, a week after Warsaw imposed a state of emergency following an influx of migrants. Poland's border guards added that they had also discovered eight exhausted migrants stuck in marshy terrain elsewhere along the border. Seven of them were hospitalized.
Sep 13: Lithuania to fence first 110 km of Belarus border by April
The row between Belarus and its western neighbor deepens amid accusations that Belarusian authorities forcefully send migrants, primarily from Iraq and Syria, to Poland and Lithuania. Lithuanian authorities have announced on Monday the construction of a four-meter tall razor fence on its border with Belarus later this month. More than 4,100 migrants have entered Lithuania this year.
Repressions in Belarus
Sep 17: Belarus suspends probe into killing of anti-government protester
Just seven months in, and despite the overwhelming evidence, the Belarus Prosecutor General's office decided to suspend the investigation into the death of Raman Bandarenka, citing the impossibility to identify the perpetrators. Raman died in the hospital on November 12th last year after he was severely beaten by the masked security forces members in front of his apartment complex.
Sep 13: "You cannot force me to look and not to see." Large-scale repression against students and the academic community in Belarus continues
"Large-scale peaceful manifestations that unfolded since August 9, 2020, and were brutally suppressed by the police within several months have clearly shown—knowledge is power and thus is seen as dangerous." This article recounts the persecution of the Belarusian academic community since August 2020.
Sep 13-18: Four instances of political repression this past week
Analysis
Sep 14: Belarus' dictator poses growing threat to Ukraine
Zapad 2021, a joint Russian-Belarusian military exercise, has caused concerns among NATO members and countries that border Belarus. The military maneuvers involve around 200,000 troops from various countries, including Armenia, Mongolia, Kazakhstan, India, and Kyrgyzstan. However, Belarus' participation gets the most attention amid a continuing political crisis in the country. Experts are worried that Lukashenka, besieged by Western sanctions and entangled in deepening ties with Russia, presents a growing threat to Ukraine—the country that has been fighting off the Russian aggression on its territory since 2014.
Sep 13: Biden needs to bolster the power of exiles
Given the recent setbacks in countries like Afghanistan, Myanmar, Belarus, and others, the Biden-Harris administration must revisit America's approach of fostering democracies worldwide. It needs to support and empower the exiled politicians and civil activists, who drive the agenda of democratic values from abroad, without the threat of being prosecuted by the regimes in their native countries.
Sep 15: Russian-Belarusian military merger accelerates on NATO's eastern flank
Speaking to reporters earlier this month, Lukashenka declared that Belarus and Russia had effectively formed "a single army" and appeared to confirm that it was targeting the West. The steady militarization of Belarus and the integration of the Russian and Belarusian armed forces have been continuing apace ever since the dictator's brutal crackdown on dissent following the disputed August 2020 presidential election. These events made Lukashenka a pariah in the West and forced him deeper into Moscow's arms.
Sep 16: Will Russia swallow Belarus?
The Deutsche Welle analyzes the latest 28 road maps signed by Lukashenka and Putin, the political intent of both leaders, and the possible outcomes. According to experts, the agreements signed are full of broad and unspecific language such as "harmonization" and intents to "reach agreement in the future." The specifics come in the form of loans and gas prices.
Belarus and the United States
Sep 13: Senate Foreign Relations Committee's statement on Zapad 2021 military exercises
"The illegitimate Lukashenka regime's participation in Russia's Zapad-2021 military exercises demonstrates continued capitulation of Belarusian sovereignty by a ruthless dictator. The US stands with NATO allies in the face of Kremlin aggression."
Belarus and Russia
Sep 12: Belarus leader reviews joint Russian military drills, touts $1 bln arms deals
During his observation of the training ground at the Zapad 2021 military exercise, Lukashenka, clad in military uniform, praised the cooperation of Russian and Belarusian troops in fending the potential western aggression and announced the 1-billion dollars arms deal with Russia. By 2025, Belarus will acquire a S-400 missile system and other Russian weaponry.
Sep 13: As Zapad military drills heat up, signs of a lasting Russian footprint in Belarus
Zapad 2021 military drills bring the establishment of a Russian-Belarusian joint military training center in Baranovichi airfield, not far from Minsk. The site is slated to focus on joint training of anti-aircraft and air-force units of both forces. Although officials say that the Russian planes will not be permanently based on Belarusian territory, the head of the Centre for Analysis of Strategies and Technologies think tank, Ruslan Pukhov, described the center as a "proto-base."
Belarus and Europe
Sep 13: Tsikhanouskaya's team discuss with Ukrainian politicians termination of cooperation with Lukashenka's regime
Representatives of Sviatlana Tsikhanouskaya took part in the international conference "Yalta European Strategy" that was held in Kyiv on September 11. During the conference, they held consultations with political groups, Ukraine's Foreign Ministry, and the Presidential Administration. A broad range of topics was discussed, including sanctions and Ukraine's cooperation with the regime of Belarus, non-extradition for political refugees, and cooperation in international organizations.
Sep 14: British American Tobacco halts production in Belarus as U.S. claims local manufacturer funds Lukashenka regime
Britain's biggest tobacco company has suspended manufacturing of its brands in Belarus. It's former partner, a state-owned tobacco factory, was accused by Washington of fueling tobacco smuggling and helping to finance the country's brutally repressive regime. The Hrodna Tobacco Factory "Neman," a government-owned enterprise, which has a longstanding deal with the London-based cigarette giant, currently represents 70% of sales on the Belarus tobacco market.
Sep 14: Sviatlana Tsikhanouskaya meets with Austria's minister for E.U. affairs
A meeting of Belarusian opposition leader Sviatlana Tsikhanouskaya and Austria's Minister for E.U. Affairs and Constitution Karoline Edtstadler took place in Vilnius, Lithuania. The sides discussed the would-be holding of a high-level conference on the resolution of the current crisis in Belarus, as well as the draft of the Constitution prepared by her team.
Sep 17: Sviatlana Tsikhanouskaya visits RSF: "Belarusian journalists need EU funding"
Sviatlana Tsikhanouskaya visited the headquarters of Reporters Without Borders (RSF) in Paris and agreed with RSF on the need for the European Union to provide significant long-term assistance to Belarusian journalists and media outlets that have had to relocate abroad. "Our journalists are in dire need of help by means of a special European Union fund, in particular for their relocation and their legal defence," Tsikhanouskaya said.
Interesting Read
Sep 13: John Oliver unveils teddy bear plan to get under Belarusian dictator's skin
Last Sunday, John Oliver premiered a segment about an unpopular autocratic leader Lukashenka (watch here). In conclusion, he directed viewers to Belarus Bear Force website, where they could purchase a teddy bear with proceeds going to organizations fighting for freedom of the press and human rights in Belarus. All 10,000 bears were sold out in under 24 hours.